Pursing the "centrifugal method and centripetal method" drawn
from the "flow" of the body
Massages the entire body in such a
manner as to carefully expand it by massage and shiatsu. "Stimulates blood flow in the body, assists blood flow
to the extremities" to relieve the
entire body.
Massages the entire body in such a
manner as to firmly draw it by
massage and rollers.
"Returns blood flow which is
dif"cult to return from the extremities
tothe heart," relieves fatigue in the
calves to refresh the entire body.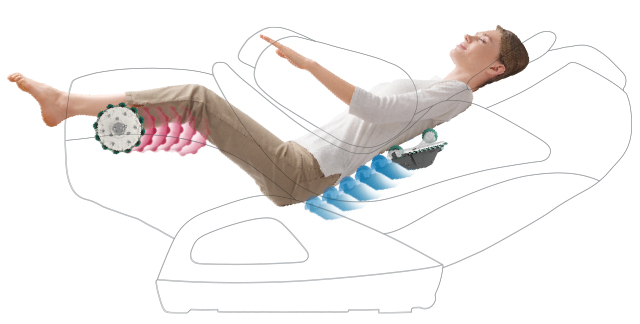 Massage position advanced from "flat" to "zero gravity"
Ideal treatment by a massage chair indicates how to relieve the entire body while reducing load, and how to appropriately massage according to the "S-shaped line" of the body. FAMILY INADA focuses attention on zero gravity of the "post-gravity load" through unique research. We have enabled a relaxing massage in a comfortable position that resembles a zero gravity environment since the entire chair supports the body evenly to reduce load on muscles.
Pursuit of massage according to person, region, and stiffness
Shape differs between the upper body and lower body. A specially designed mechanism with an optimum shape is required for an appropriate massage. For uneven stiffness caused by body distortion, it is important to massage each of the left and right sides intensely. What solves this problem once for all is our newly developed "W Engine." It enables a massage according to the user.
Optical Sensor automatically locates optimum shiatsu points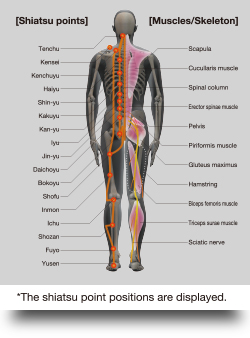 FAMILY INADA's proprietary Optical Sensor Automatic Shiatsu Point Locator System correctly locates shiatsu points which vary from person to person depending on body type. This enables effective massage by grasping individual pressing and massage points.
New healthcare program enabled by the 8-axis intelligent massage system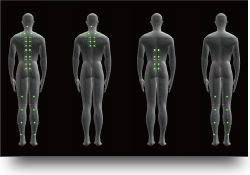 We developed a healthcare program that employs a left-right massage balance specific to the
"W Engine." This relieves stiffness and fatigue caused by daily lifestyle habits.
Overseas Sales Dept.
tel.+81-6-4807-9271
Copyright © 2013 Family Inada Co., Ltd. All Rights Reserved.