Features
Compact Design
You can enjoy the fulfillment of massage even in a small room.

Freely usable in anywhere.
You can enjoy the massage in a cozy little room.
Folding Massage Chair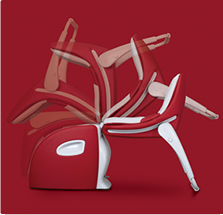 It is easy to fold and store CUBE when you are not using as a Massage Chair.
Use as a stool.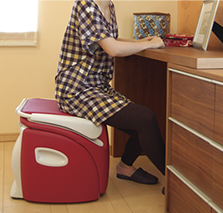 You can use CUBE as a stool when you fold it.
It is convenient for any room.
Easy to move with smooth caster.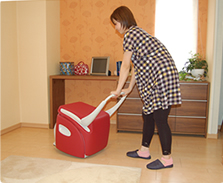 21 Air Cells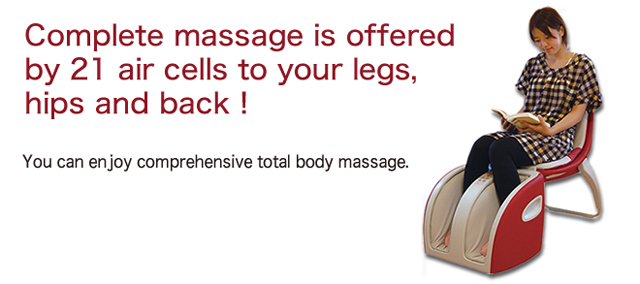 Sole and calfs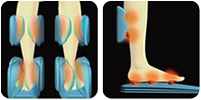 Wrapping your instep and calves, newly designed air bags with projections gives greater stimulation onto your soles and back side of calves.
Pelvis / Hips and Thighs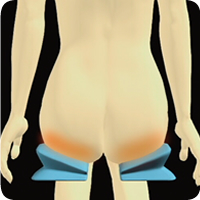 Swinging around your pelvis area with seat air bags while receiving Shiatsu pressure. Back side of your thighs receiving compression massage from the seat air cells.
Hips & Lower Back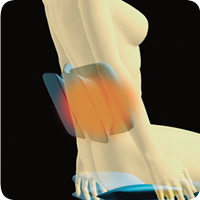 Your hips and lower back are squeezed and compressed as if being massage by the palm of the hand.
You can choose the one from variety of programs available for you.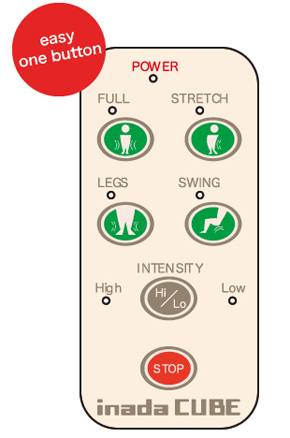 Full BodyProgram
To relieving fatigue from full body, from back to sole.
Stretch Program
Focusing on stretching and twisting movements.
Legs Program
Focusing on hip joints, calves and soles.
Swing Program
To relax by stimulating pelves and hip area.
Overseas Sales Dept.
tel.+81-6-4807-9271
Copyright © 2013 Family Inada Co., Ltd. All Rights Reserved.